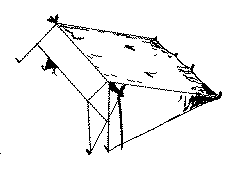 R.K. Lodges began making lodges and primitive shelters commercially in 1971. It was started by my parents, Dick and Katie Kop, as they pursued their great interest in Living History.
Growing up attending rendezvouz and working with people who share a love of history has enabled all of us to meet many great people and gain good friends. We remain a family-run business with a commitment to our customers.
We are always happy to try and answer questions about tipis and primitive living in general. Always glad to hear from other buckskinners.
Sincerely, Paul and Cherrie Bargman


DIMENSIONS

The stated dimensions are the finished size. For example, a 10' x 14' wall tent finishes after construction 10' x 14'. All walls are sewn vertically. This reduces shrinkage, therefore preventing walls from puckering.


SHIPPING

Most tents are shipped within 48 hours, excluding tents with custom options, please allow 7 to 10 business days for these to be completed. This applies year-round.


WE GUARANTEE ALL OF OUR PRODUCTS TO YOUR SATISFACTION

Upon receiving any of our products, please examine closely. If for any reason you are not satisfied, return to us for a full refund.
After the product has been used and you have or feel you have a problem, please call and make arrangements to ship it back. We will either repair or replace, at our option.