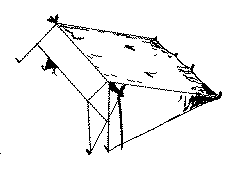 10 OZ. COTTON DUCK UNTREATED
This is a 100% cotton with 10 oz. of yarn per square yard. It will be white to off white containing particles of cotton seeds and fairly coarse weave. Very authentic and close to the material available in the 1800 period.
12 OZ. COTTON DUCK UNTREATED
Same as the 10 oz. except 12 oz. of yarn per square yard. This has a higher tear strength and longer durability. Use in areas of high winds or prolonged use.
10 OZ. COTTON DUCK WATER REPELLENT
A factory treatment done by dip method. Very water repellent and will help resist mildew. Does not change the color of the material. Recommend this treatment for areas with heavy annual rainfall.
All of the above materials, treated or not will turn grey with use. This may appear in spots or solid tones of grey or sometimes colored.
10 OZ. SUNFORGER
A 100% cotton army duck, with a very tight weave. Off white in color. Highly resistant to water, mildew, fungi and industrial pollution.
This is a copyright treatment used for boat and snowmobile covers. Designed for year-round outdoor use. Actual weight of finished goods over 12 oz. per square yard. Recommended for all areas, especially east of the Mississippi, due to industrial wastes and high humidity.
10 OZ. SUNFORGER FLAME RETARDANT
The same as Sunforger with the additional treatment CPIA-84 flame retardant. Meets California code (The best available). Actual weight of finished goods over 13 oz. per square yard. This material will self-extinguish when source of flame is removed. Does not flash.
All of our materials treated or not are adversely affected by acid rain (hydrochloric acid) or other chemicals caused by industrial pollution. These will discolor the materials and cause possible water dripping. All of the treated materials are water resistant, not water proof.
All of the materials we use are white to off white and are in accordance with all National rendezvous rules.
STAKE LOOPS
We do not use a commercial nylon. Our stake loops are made of six- thickness 10 oz. Sunforger material.
TIES
Ties are heavy, 100% cotton. They are slightly off color as these are treated for water repellency and mildew resistance, to help prevent rotting. To our knowledge no other manufacturer is doing this.