STAKE LOOPS AND TIES USED IN PLACE OF GROMMETS
WALL TENTS (Inside Ridge Pole)
CLOSED ENDS AND 2 GROMMETS IN RIDGE
STAKES REQUIRED
(WE RECOMMEND STEEL)
8' x 10' – 20
9' x 12' – 20
10' x 14' – 22
10' x 16' – 26
12' x 14' – 28
12' x 16' – 30
14' x 16' – 32
SHIPPING ON STAKES
PLEASE CALL FOR SHIPPING RATES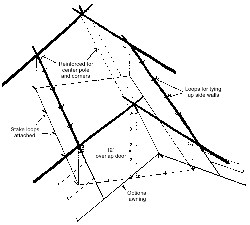 Page 8
WALL TENTS (Inside Ridge Pole)
These are the same as our outside pole tents, except you use dimensional lumber available at your local lumber yard.
Tents constructed for the inside pole structure have closed ends. Grommets are installed in both ends of the reinforced ridge for pins on ridge pole uprights.
The side walls are tied to a side pole on the outside that used two uprights 4' or 5' long depending on wall height. These need to be guyed out.
Optional side wall supports are 4' or 5' 2"x2"'s -- each guyed out every 2 feet.
Instructions for the type you order are included with tent.
Cost is the same for either style. Please specify inside or outside pole structure.
Tipis | Wall Tents | Lean-Tos | A-Frames Marquis | Civil War Tents | One Pole Tent Accessories | Order Now | Prices